A major initiative of the Susquehanna Strong Comprehensive Campaign is the renovation of the UPMC Rehabilitation Institute at Williamsport.
Susquehanna Health Foundation needs community support to help raise $3.5 million to initiate this project.
The west wing of UPMC Williamsport, built in 1962, currently houses our inpatient rehabilitation services. Over time this space has become outdated and does not allow us to provide an optimal patient and family experience. The current space also limits our ability to offer many new and innovative therapy options.
UPMC Rehabilitation Institute at Williamsport draws patients who live up to three hours away, due to the advanced level of expertise our team provides. In order to meet the demand, expand services, and provide the highest quality care possible, we must create a state-of-the-art Institute to continue our mission of providing lifechanging medicine.
INPATIENT REHABILITATION
Annually, our inpatient rehabilitation floor cares for more than 600 patients with an average length of stay of 12 days, from ages 13 and older, with diagnoses of stroke, burn, fractures, multiple trauma, etc. Although it is not a requirement, a significant number of nursing staff have specialty certifications in rehabilitation, meaning patients receive the highest quality of care. This project will ensure that the space where we care for patients matches the level of care our clinical staff is providing, day in and day out.
The department is certified for spinal cord treatment, one of only four in the state; certified for brain injury treatment, one of 14 in the state; and certified for stroke rehabilitation. Due to outstanding recognition and patient outcomes, UPMC has invited our inpatient rehabilitation team to participate in spinal cord injury research.
The current inpatient rehabilitation space consists of 26 semi-private patient beds, only some rooms with bathrooms, and others containing as many as four beds. The new space will create a healing environment with 30 private rooms, all with in-room bathrooms. This is the final phase of converting to all private patient rooms at UPMC Williamsport.
The project will also have:
New rehabilitation programing for disorders of consciousness developed by UPMC Rehabilitation Institute at Mercy for patients with severe brain injury who remain in a comatose state of consciousness.
A dedicated, secure unit for brain trauma or dementia patients—designed for patient safety.
An overhead rail system in the gym to provide high-level gait and balance training without the risk of falls and injuries.
The use of robotics to advance traditional interventions in regard to sensorimotor functions.
The ability to incorporate music therapy to address physical, emotional, cognitive, and social needs of patients.
Cushioned floors to reduce risk of injury and a centralized video monitoring system for fall prevention.
---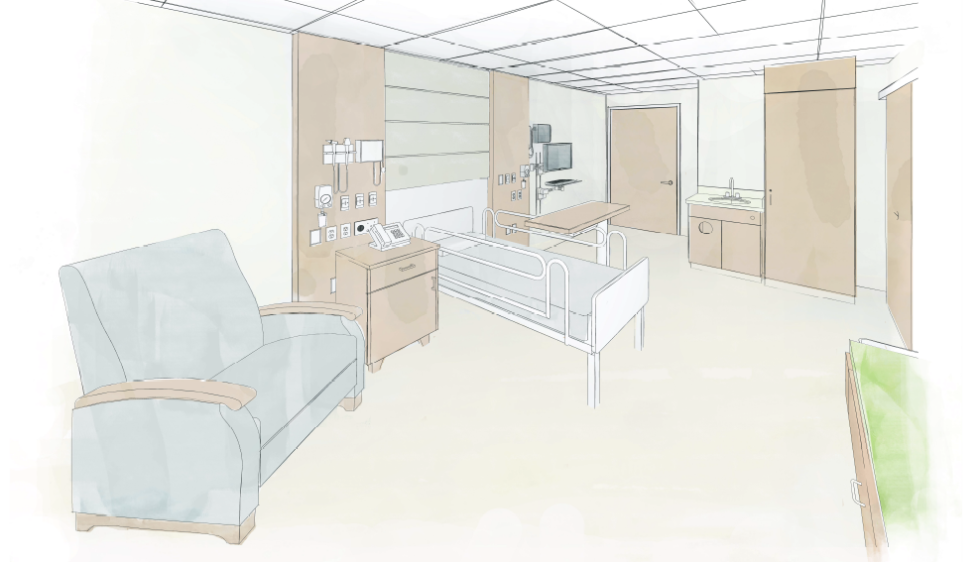 ---