A Masterpiece Career Comes to a Close
Unless you're a classical music aficionado, chances are the names Carlos Kleiber and Claudio Abbado won't mean much to you. If you are a classical music enthusiast, you undoubtedly know that the late Kleiber and Abbado were world-renowned maestros who conducted musical ensembles with a tantalizing blend of ferocity and grace.
But regardless of your familiarity with classical music, there is one "conductor" of sorts whom everyone within the UPMC in North Central Pa. universe knows: Steve Johnson.
The former president and CEO of Susquehanna Health, who possessed the precision of a Kleiber or Abbado in skillfully conducting the health system's integration with UPMC, retired from his full-time position as president of UPMC in North Central Pa. earlier this year.
"With humility and profound gratitude, I thank each of you for your dedication, inspiration, and support through the years," he wrote in a message this summer. "I will be forever blessed by the opportunities, challenges, joys, sorrows, disappointments, and celebrations we experienced on this journey together."
To understand why Steve was capable of making the impact in the community that he did is to know him. And, as it turns out, he's not entirely done making a difference in the lives of others.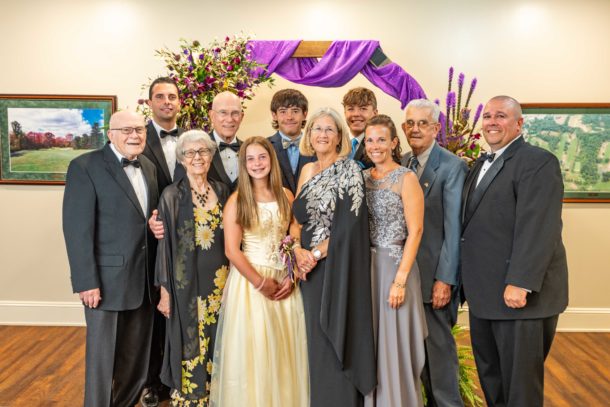 A commitment to a lifetime of service
Attending grade school in Kentucky but spending his high school years in New Jersey, Steve knew at an early age what was in store for his future.
"I grew up in a family that was committed to community service," he says. "My dad was a career pastor, and my mom was a schoolteacher. After college, I worked in long-term care and really liked it. I thought health care was the perfect place to combine my interest in business and industry and commitment to supporting the community and the people living there."

Following a stint as a nursing home administrator, Steve joined what was then The Williamsport Hospital, where his patient-first mentality helped him ascend from director of personnel to executive vice president-chief operating officer.
There, he got his first taste of health care consolidation in 1994, spearheading the operational merger of three area hospitals — The Williamsport Hospital, Divine Providence Hospital, and Muncy Valley Hospital — into a single faith-based partnership of community providers. Thanks to the same graceful flick of the conductor baton Steve would use years later with UPMC, Susquehanna Health System was born.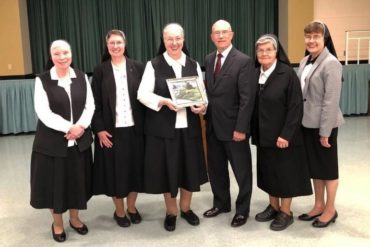 Partners in faith and fellowship
Every good conductor needs an orchestra of skilled musicians working in harmony to drive the piece forward. And for most of Steve's career, the Sisters of Christian Charity (SCC) have been front and center in that ensemble.
"They were one of the two founding members of the forerunner to the organization we know today," Steve says when asked about SCC's impact.
In 2008, Steve says, Susquehanna Health transitioned from an operating alliance to a full consolidation thanks to a generous gift from SCC: Divine Providence Hospital and Muncy Valley Hospital. In exchange, Steve and Susquehanna Health made a series of commitments to SCC, including a pledge to remain a faith-based organization in perpetuity, continue providing SCC in the area with a safe, clean, and easily accessible place to live, and forever honor the role SCC has historically played in community health — all of which made perfect sense to Steve.
"I think there's a spiritual aspect to health care," he says. "One of the things I've been blessed by is having the opportunity to work in a faith-based health system. That really has been very meaningful."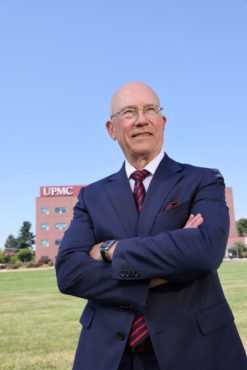 Susquehanna Health becomes UPMC in North Central Pa.
The decision for Susquehanna Health to join UPMC long pre[1]dates the day ink went to paper and system integration began. As Steve recalls, Susquehanna Health had recently completed a series of significant facility investments and a merger with the Laurel Health System in Tioga County and was planning how best to capitalize on the health system's momentum.
UPMC Williamsport was modernized through the addition of a new 350,000-square-foot inpatient tower and medical office building, major renovations that included a transition to single-occupancy patient rooms, and the construction of a new emergency room and surgical center. UPMC Hillman Cancer Center on the campus of UPMC Williamsport Divine Providence Campus received a $25-million multi-year renovation and expansion that brought state-of-the-art technology and treatment to the region.
Additionally, Steve directed the process of acquiring neighboring property and the construction of a new emergency room and imaging services building at UPMC Muncy, along with various outpatient locations that support modern medicine's industrywide shift to outpatient care.
Officials at Susquehanna Health initially hoped to start their own health plan. The initiative offered them a chance to help more patients in ways they had previously been unable to provide, expanding the system's scope and community reach. Ultimately, the health plan project was deemed impractical and too expensive for Susquehanna Health officials to implement on their own — but what if they didn't have to go it alone? What if a partner could lock arms and walk down that path with Susquehanna Health officials for the good of the community?
"We started looking diligently for organizations that could help us, knowing full well we may select an organization that was larger than ours and that we would be uplinking to it," Steve says. "UPMC ended up being the preferred organization to join because it had one of the state's largest and most successful health plans. It also had an academic medical center, and its leadership team knew hospital operations extremely well."
In conducting the uplink process, Steve focused his team on installing new information technology systems that linked Susquehanna Health to UPMC, managed the merging of operating policies and the implementation of a new payroll system, and led the deployment of new supply chain processes. He also made sure the commitment to patient care never dipped below the standards he helped to set.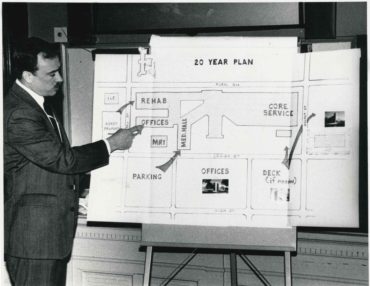 UPMC in North Central Pa. grows bigger and better
Under Steve's leadership, UPMC in North Central Pa. experienced tremendous growth and revitalization.
Those updates punctuate a 20-year facility replacement and modernization plan for Muncy, Divine, Wellsboro, and Williamsport hospitals and outpatient clinics that began in 2005. The last elements of that plan — the construction of the emergency department observation unit and the demolition of an outdated building at UPMC Williamsport — were recently completed. The reconstruction of the Rehab Institute at UPMC Williamsport is slated to be completed by 2024.
Though he won't be at the post he's held for nearly two decades when it happens, the culmination of those final components will be Steve's proudest moment.
"Steve Johnson is one of the most exceptional individuals with whom I have had the pleasure to work," says Ann S. Pepperman, Esq., chairperson, UPMC in North Central Pa. Board of Directors. "His passion and commitment for patient care and for those who provide the patient care are unmatched."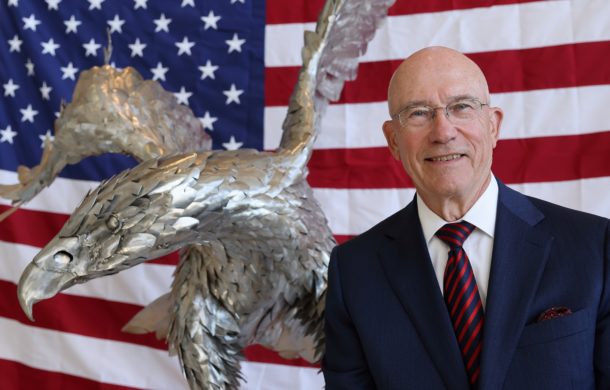 Community supporting the community
If you couldn't tell from his words about the Sisters of Christian Charity, Steve is a big believer in the power of partnerships and philanthropy.
Over the course of his career, he's developed deep ties with leaders at the city, county, and Chamber of Commerce levels, in addition to the YMCA, and organized collaborations with local colleges to ensure UPMC in North Central Pa. staff always had ample access to continuing education. Those connections have been paramount for developing the platform needed to modernize facilities and add cutting-edge technology and best-in-class medical providers.
"Community partnerships are so important," he adds. "We don't believe we have to own everything ourselves. Having strong partnerships in our community makes us better."
This year, the week of Veteran's Day will mark the dedication and commissioning of another of Steve's community-minded projects — the Health Care Veterans Tribute at UPMC Williamsport — which pays homage to local veterans with outdoor space, a statue of a soaring eagle, and medallions of the six branches of military service. For Steve, a veteran of the Pennsylvania National Guard, the installation is particularly poignant.
Under his leadership, Susquehanna Health Foundation and UPMC in North Central Pa. has received more than $145 million in philanthropic support. On a personal level, Steve has donated countless hours to local nonprofits and community-based organizations, including Little League® International, the Williamsport Lycoming Chamber of Commerce, the Pennsylvania College of Technology, Lycoming College, and the First United Methodist Church of Williamsport, among many others.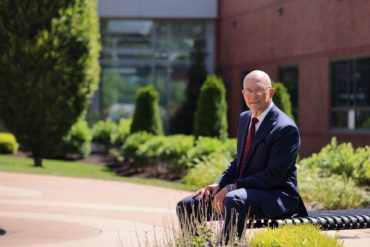 The conductor readies for his next symphony
Steve's distinguished career has seen him lead and grow more business units and hospitals than he could have ever imagined. The full scope of the health system Steve assembled and led includes UPMC Williamsport, UPMC Williamsport Divine Providence Campus, UPMC Lock Haven, UPMC Muncy, UPMC Wellsboro, the Susquehanna Health Medical Group, the Susquehanna Regional EMS, and UPMC Cole (which merged with UPMC in 2018).
And that brings us to the future. Remember how we said Steve wasn't quite done helping people? The longtime health care executive is refocusing his attention to the east with his next project — and we don't mean Scranton or Wilkes-Barre. Think farther east.
Steve is now consulting on a new hospital being built in Chengdu, China, as part of a partnership between the Wanda Group and UPMC.
"I had expressed some interest in maybe doing something a little different for UPMC on a consultative basis," Steve says. "They had this project going on that needed somebody with experience in hospital leadership and working with UPMC, and I've always been interested in a potential international assignment."
As one of China's leading conglomerates, Wanda Group is constructing the 500-bed hospital, and UPMC will manage and operate it. The Chengdu hospital will encompass patient-focused Centers of Excellence for cancer care, orthopaedics and sports medicine, neurology and neurosurgery, heart and vascular treatments, ophthalmology, and digestive disorders, which will be integrated into UPMC's global network.
Steve will serve as co-CEO with Dr. Randy Jernejcic, who will live and work in Chengdu on a full-time basis beginning in 2023, while Steve visits intermittently.
"I'm humbled that I've been provided the opportunity to play a small role in helping facilitate community-focused health care," Steve says. "And for me personally, that's meant the world."
After a career performance stateside worthy of a standing ovation, here's to a sensational international encore, Steve.
Sign up to receive our monthly e-newsletter