Why give monthly:
Long-term impact — Your commitment to a monthly donation allows us to look ahead and plan for the long term to best serve our community. Your gift works side-by-side with us, making long-lasting improvements to health care in our region.
Budget-friendly and easy — Set up your monthly payment and get your annual tax letter in January. Your donation can be charged directly to a credit card or bank account, and you can change your donation at any time.

Monthly Giving Helps Datres Family Make Donating a Priority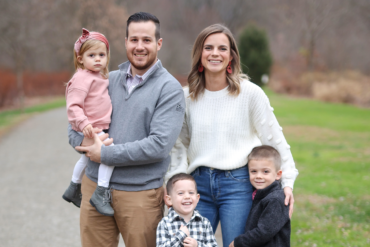 Kory Datres, a Williamsport native, has seen the city and community change over the past 34 years After marriage and starting a family, Kory and Carnie realized how important the community really is.

"UPMC in North Central Pa. has given this community a tremendous resource, and we are thrilled to help build a system that will serve this area for years to come," says Kory. "We chose to give back monthly as it fit best for our family budget and serves as a nice monthly reminder of the work and progress that we hope to make in our community. Our community is important, and it is especially important to have a great hospital system at our disposal. The programs and systems being put in place at UPMC are going to help many people, young and old. Please consider giving, even if it is a small amount, to Susquehanna Health Foundation."
Join the Datres Family in Becoming a Monthly Donor
Please make a gift online and when filling out the form, select "Monthly donation." You can join our Keystone Society with a gift as low as $21 per month. You can also make your gift in honor or in memory of a loved one.
For more information or questions, call Susquehanna Health Foundation at 570-320-7460.