On June 8, UPMC and Susquehanna Health Foundation leaders celebrated the recent completion of the multi-year expansion and renovation of UPMC Hillman Cancer Center in Williamsport with a ribbon-cutting and facility tours.
The UPMC Hillman Cancer Centers in Williamsport and Wellsboro have more than 32,000 outpatient encounters with more than 45,000 procedures annually. The $15-million-dollar expansion and renovation of UPMC Hillman in Williamsport, completed earlier this year, provides for an additional 10,000 square feet to create 22 physician exam rooms and 28 chemotherapy bays. In addition, the expansion created an improved patient-focused area, reconfigured the on-site pharmacy and allotted space for potential future expansion of complementary therapy programs when needed.
Since 1974, the cancer center has served the community with comprehensive and compassionate care for patients of all ages. The new UPMC Hillman facility, made possible in part by the generous support from community partners and Susquehanna Health Foundation donors, increases access to advanced cancer care and treatment services and provides a safe and healing environment where patients have a positive and engaging experience.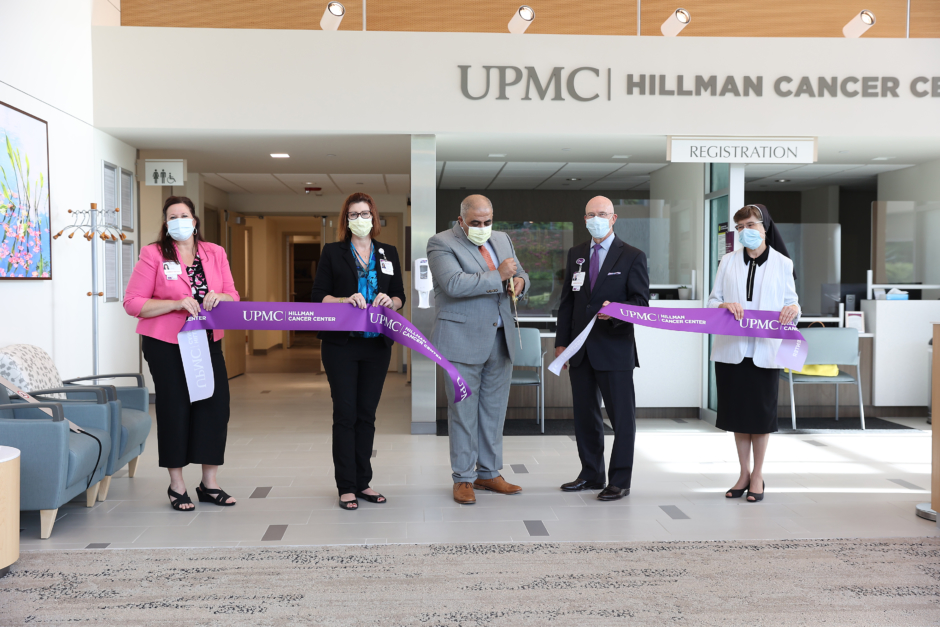 "Completing this project fulfills a standing promise we have made to this community," said Steve Johnson, president, UPMC in North Central Pa. "We're living our mission – extending God's healing love by providing outstanding patient care and shaping tomorrow's health care through clinical and technological innovation and education. The services we're providing here are designed to meet the health needs of this community and we will continue reinvesting across our region to advance clinical and service excellence."
As part of the world-renown UPMC Hillman Cancer Center network, one of just 51 National Cancer Institute-designated Comprehensive Cancer Centers in the country, the UPMC Hillman Cancer Center in Williamsport will bring the research and resources of the network to north central Pa Patients in this region will receive not only medical and radiation oncology services, but will have direct access to renowned cancer specialists, cutting-edge research in immunotherapy, more than 400 leading-edge clinical trials and the most advanced technology for cancer detection and treatment.
"Through collaboration with our colleagues across the UPMC Hillman Cancer Center network, we're working together to take cancer care to a whole new level here in the region," said Abdalla Sholi, M.D., medical director, Medical Oncology, UPMC in North Central Pa. "Our cancer center has a long history of quality care and we've received numerous accolades and recognitions over the years. UPMC Hillman is helping us raise the bar even higher so that patients seeking quality comprehensive cancer care can get it right here where they live. We are excited to have this beautiful new center and believe it reflects all the great work being done within its walls."
Community contributions totaling $3.5-million dollars were made by donors toward the UPMC Hillman Cancer Center expansion and renovation project.
"UPMC continues to move forward and redefine quality health care in the region, and our community is supporting this work," said Sherry Watts, vice president, Development, Susquehanna Health Foundation. These results are extraordinary, especially considering the unforeseen and unprecedented pandemic. It shows how much our community appreciates the care offered in our region. Donors are investing in the future of our communities and we couldn't do what we do without them."
For more information on UPMC Cancer Services in North Central Pa., visit UPMC.com/CancerNCPA.
For more information on Susquehanna Health Foundation or to donate, visit SusquehannaHealthFoundation.org.
Sign up to receive our monthly e-newsletter