Endowments Let Donors Secure Care for Future Generations
Falling in love with the girl next door is a trope as old as time. But sometimes, like in the case of Ed McCabe, tropes come true.
"I met her when she and her parents moved in next door," Ed says when asked how he first crossed paths with his wife of 56 years, Sherry. "So, I literally married the girl next door."
Little did he know at the time that the girl next door would become a lifelong partner and mother of his child, a NASCAR superfan, and a two-time cancer survivor, and whole-heartedly share in his passion to give back to others in need within their local community — but we're getting ahead of ourselves.
Growing up with a keen interest in the discipline we now call STEM — science, technology, engineering, and mathematics — the Williamsport native was introduced to the fascinating world of electronics at a young age.
A friend of his father's mentioned to Ed that he had an old radio in the attic, tantalizing the wide-eyed 11-year-old with an offer to keep the radio if he could get it working — a gesture that ultimately jumpstarted Ed's career.
"I took that radio down to my basement, and it took about three months to get it working," Ed says. "When I was 14, I designed a computer that won second prize in the state science fair. And by 16, I was fixing everybody's TVs in the neighborhood."
Ed took the next step in his tech career by attending Williamsport Area Community College (now Pennsylvania College of Technology) after graduating from Williamsport High School. It was during this time in college that Ed married Sherry, who was studying at nearby Mansfield State College (now Mansfield University).
A job offer after Ed's graduation prompted the McCabes to move to Rochester, New York, with Sherry giving birth to son Michael soon after. But the family would find their way back to Pennsylvania in short order, where Ed would join the Mergenthaler Linotype Company in Wellsboro, becoming a systems engineer and developing the first computerized typesetting system for the newspaper and magazine industry — a revolutionary piece of equipment used by the likes of National Geographic, The New York Times, and The Washington Post.
From there, he moved to Mek-Tronix Laboratories in Mansfield, an upstart company that did research and development and telephone repairs and refurbishing — and the place where he would be given the opportunity of a lifetime.
"[The owner and I] were talking one day, and he said, 'It sure would be nice to be able to know who was calling you before you answered the phone," Ed recalls. "He said, 'Do you think you could come up with something like that? I have some money, and you have some brains, so let's see what we can do.'"
What Ed did was build a working prototype for a specific type of technology the government deemed worthy of a U.S. patent. They called it "Digital Instant Trace System," but you might be more familiar with its consumer-facing name: Caller ID.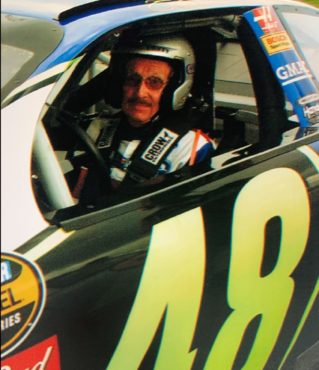 After a lengthy career in engineering, which also included a nearly 20-year stint with GTE Sylvania/Philips ECG, and music (one of Ed's other loves), he returned to his alma mater as an instructor in Pennsylvania College of Technology's electrical & electronics department in 2001.
As longtime NASCAR enthusiasts, the husband and wife frequently made trips to tracks across the country, including the 90-minute jaunt to the famed Pocono Raceway. There, the McCabes marveled at how their favorite drivers effortlessly tamed the track dubbed The Tricky Triangle.
If you're a NASCAR fan, you're familiar with Pocono Raceway's distinctive design and the variety in its three turns — each is modeled after another legendary track and features a unique angle and degree of difficulty.
But those twists and turns had nothing on the ones life had in store for the McCabes.
In 2008, the breast cancer Sherry experienced and thought she had conquered 20 years earlier returned. The year after that, Ed had a heart attack that required open heart surgery and a quadruple bypass. Two years later, Ed had a second heart attack. And three years after that, Sherry had both knees replaced.

"Our health procedures were all with UPMC in North Central Pa.," Ed says. "All of our experiences with the doctors, nurses, and staff have been great. It's a wonderful place with wonderful people."
"Our health procedures were all with UPMC in North Central Pa.," Ed says. "All of our experiences with the doctors, nurses, and staff have been great. It's a wonderful place with wonderful people."
It's now been more than a decade since that whirlwind of a time that saw Ed and Sherry in and out of UPMC in North Central Pa. facilities, and Ed is happy to report that both are doing great today.
But remember how we mentioned Sherry felt as strongly as Ed about philanthropy and giving back to the community?
In response to the care they received and as a token of their appreciation, the McCabes set up a pair of endowments with Susquehanna Health Foundation in 2022. After meeting with Foundation staff and talking about their options, Ed and Sherry made the decision to establish endowments to benefit cardiac rehabilitation and the Breast Health Center at UPMC in North Central Pa.
"I think it's important that everybody consider giving if you can financially do it," Ed says. "Giving to a charity can enhance society and make things better."
It was vital to both Ed and Sherry that their money go toward causes that were meaningful to them.
"When you die — whether you have $100 or $1 million — you'd like something good to come from it," he adds. "Let it take care of the things you are passionate about."
If you're interested in donating to an endowment, you can contribute by contacting the Foundation at 570-320-7460.