John Crossen Jr. was about to step into the void.
His feet were safely planted on the deck of a low-flying military aircraft as it winged closer to the drop zone. Outside the plane — in front of him, below him, all around him — was nothing but roaring air. It was December 20, 1989. John, an Army paratrooper with an intense fear of heights, was about to make his first combat jump as part of the invasion of Panama, code-named Operation Just Cause. His life would never be the same.
Falling fast, John didn't have much time or distance to think. The ground was just 490 feet away — and getting closer each second. It was a jump so close to the ground, he was told he wouldn't need his reserve chute. If John could think of anything in those fleeting seconds, it was most likely the mission at hand — and having a sense of pride. After all, he was fulfilling a dream, a family tradition.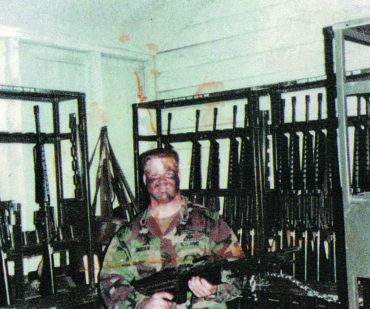 John comes from a long line of those who have served America. Some of his distant relatives helped win the American Revolution and fight in epic Civil War battles such as Gettysburg. More recently, his grandfather, a paratrooper in the 82nd Airborne Division, jumped into legendary World War II battles in Italy and Holland and on D-Day. John's father also served as a paratrooper in the 82nd. Now it was John's turn to serve.
The ground is unforgiving, especially when you're coming in hot and weighed down by an M60 machine gun, 1,200 rounds of ammo, radio batteries, and grenades.
"I hit the ground like a ton of cement," says John. His back and lower legs crashed and cracked, but, being a soldier, he fought on. Injuries, however, can be insidious. They can creep up years later — and take over your life.
Before the Jump
John grew up in the Philadelphia area and went to high school in Ohio. A self-described average student, he was more interested in playing football, running track, and wrestling than attending classes and reading books. His parents divorced, so he'd spend summers with his dad n the Tampa Bay area of Florida, where he loved to fish, chase reptiles and snakes, and soak up the sun.
John enlisted in the Army right after high school, attending 13 weeks of basic and advanced infantry training at Fort Benning in Georgia. Knowing he wanted to be a paratrooper despite his fear of heights, he signed up for jump school, an intense three-week course, also at Fort Benning.
"My first jump, I got on the plane and thought, well, it's too late to quit now," John says. "Don't get me wrong. I was scared. If you're not scared, you're an idiot. But once you're on the plane, you just do the jump."
To graduate from jump school, a soldier must make five umps, including a night jump. John battled his fears and completed all the jumps and soon received something he'd always dreamed of: his jump wings.
"My grandfather and father came to my graduation," John says proudly. "I was now part of the family tradition."
While five jumps may seem like a lot to those who prefer to keep both feet on the ground, it's a small fraction of the 167 jumps John has made in his life. Some were for fun. Others were part of his 11 years in the Army as an active duty and reserve soldier.
There would be other leaps of faith, like, after completing active duty, attending West Chester University of Pennsylvania on the GI Bill. Another, when he enrolled in the ROTC program and played defensive tackle on the school's football team. Later still, John would get married and start a family.
Married now for 24 years, John met his wife, Jennifer, at their then mutual place of employment. At the time, John was serving in the National Guard after a successful military career that sent him all over the world and into big missions like Operation Desert Storm. But now, in addition to his Reserve duties, John also worked as a case manager for an agency that helped adults with mental disabilities learn important life skills and find work and housing. John says it was the best job he ever had, and meeting the love of his life was a major bonus.
But the U.S. government always needs people to serve, and John is the type of selfless guy to always answer the call. The Federal Bureau of Prisons needed correctional officers, and John — big, strong, and trained by the military — was a perfect law enforcement fit. John worked with the bureau until he retired in 2013.
Today he enjoys collecting antique firearms and spending time with his family, especially traveling to their favorite destination: Walt Disney World in Orlando. Jennifer works as a family therapist for Diakon Family Life Services. They have two daughters. Isabella is 17 and a senior at Montoursville Area High School. According to John, she's an exceptional artist and singer. Analiese is 12, is in sixth grade at C.E. McCall Middle School, and is the athlete of the family, especially excelling at soccer. The family loves Lycoming County.
"The people are so friendly," John says. "There's so much to do. Great schools, great teachers. It's close knit. People know each other and are very friendly."
Life seemed perfect. But a dark and scary time was edging closer.
The Day Everything Changed
For years, John ignored the pain and occasional numbness from his Panama injury. But in December 1997, the incident would come back to haunt him. On that day, a minister visiting the prison to preach to the inmates suffered an aortic aneurysm, and John leapt into action. He immediately carried the minister — a very large man — to safety and started CPR. John's brave act saved the man's life and earned John an award, but it also herniated a disk in his already injured back.
"My back was bad, really bad," John says. "I was dealing with so much pain, but I was trying hard to avoid back surgery."
Prescription pain medication helped a little, but in 2004, John finally decided to undergo surgery on his back. The laminectomy, a procedure to remove part of the vertebral bone called the lamina, was performed by UPMC neurosurgeon Rodwan K. Rajjoub, MD.
"I love him!" John says of Dr. Rajjoub. "I think he's the best neurosurgeon in the country. He's so good he was authorized to work on (former) President Carter."
The surgery helped put John on the road to recovery, but he had no idea how long, winding, and treacherous that road would be.
A Troubling Realization
John still had pain. A lot of it. He continued taking pain medication, including powerful opioids such as OxyContin. The drugs worked — for a while. But over time, their effect was lessened. He found himself taking more pills, more often — caught in a vicious cycle that started to consume his life and damage his relationships. Then, one day, he arrived at a troubling realization: he was addicted.
"I felt worthless," John says. "Are you kidding me? I'm ex-military, ex-law enforcement. I'd played by the rules my whole life. And here I am, dependent on pain meds."
Breaking the Cycle
He made an appointment to discuss his concerns with his family doctor, Elizabeth Anderson, MD. She referred him to UPMC's addiction specialists, who helped him come up with a plan to beat his dependency.
"Stopping the drugs was tough," John says. "I could only do it with the help of my wife, family, and doctors. The withdrawal symptoms were horrible. Vomiting, diarrhea, shakes, chills, dark thoughts, loss of appetite. But I rode it out. After a month, it was like coming out of a storm. I got my life back."
John had defeated his addiction to prescription drugs, but he still had another enemy to overcome: "the back of an 80-year-old," according to Holly Shadle, CRNP, a nurse practitioner who worked with Dr. Rajjoub. Dr. Rajjoub has since operated on John's back twice more, surgeries that John says have drastically improved his quality of life. Also on John's care team are pain management specialist Mohamed Osman, MD, at UPMC, and Thomas Shaner, DO, at the Veterans Affairs Outpatient Clinic in Williamsport.
"I've been lucky to have the best doctors anywhere," John says. "If it were not for all of them, I don't think I'd be here. And the VA has been very good to me. Dr. Shaner is fantastic and has helped refer me to all my physicians."
It's been a long journey for John. Injuries, pain, addiction, and surgeries — and now, finally, hope.
Looking back, what has he learned?
"Don't live with pain," says John, who hopes his story can help someone else who is going through what he went through. "There are so many options. Such great doctors. And if you think you have a problem with addiction, get help. It's amazing to get your life back."