Celebrating 100 Years of Specialized Services for Kids
As we all know, Williamsport is hailed as the birthplace of Little League Baseball — a badge locals wear with pride in recognition of the city's place in the annals of Americana. Yet, what most people don't realize is that the distinction isn't the only youth-related, Williamsport-based first[1]of-its-kind to be etched in the history books.
Founded in concert with a Rotary Club initiative in January 1923, Williamsport was the first community in all of Pennsylvania to organize clinical services providing medical advice and care specifically for disabled children.
That groundbreaking development reaches its centennial milestone this year as UPMC Pediatric Rehabilitation in Williamsport celebrates its 100th year of service.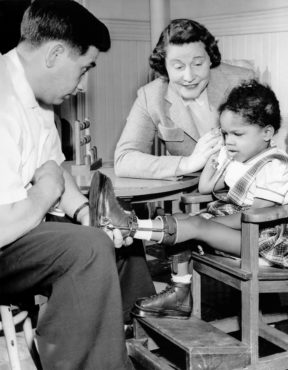 HISTORY TAKES SHAPE
Though it may seem meager by today's standards, what the clinic — then named the Lycoming County Crippled Children's Society, Inc. — initially offered was revolutionary for the time.
In order to determine the merit of its early foundational efforts, the Rotary Club blitzed area schools and inserted a form in local newspapers urging the public to respond with the names of children in need of such services. In total, 61 kids in Williamsport and South Williamsport were identified.
Shortly after, it was announced that renowned orthopaedic specialist Dr. William J. Merrill of Philadelphia would staff a clinic for the Society and provide his knowledge and expertise to the Rotary Club and the disabled children of the area at no charge — a generous donation of his time that continued for some four years. On the day of the first clinic, 45 children were examined by Dr. Merrill, along with a local surgeon; pediatrician; eye, ear, nose, and throat specialist; and a dentist.
The years and decades that followed saw new services and offerings added, including a capacity to transport patients through the purchase of an agency car — a 1939 Plymouth Road King two-door sedan outfitted with double windshield wipers, double taillights, heater, and double defroster — for the grand sum of $347.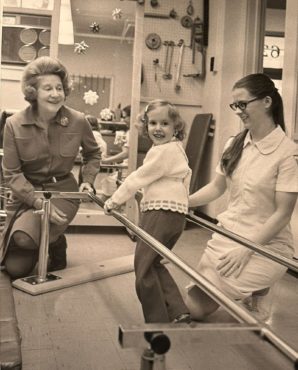 By the end of 1944, the Society's providers had examined more than 3,000 patients. In 1965, a building addition was completed to house preschool and speech programs. And in 1979, the Pediatric Neurology Clinic and the Lycoming County Women, Infants and Children Supplemental Nutrition Program were formed.
Still, it felt like more could be done.
"When I started in 1978, I was the only therapist," says Denise Lorson, PT, supervisor of UPMC Pediatric Rehabilitation. "But since I've been here, we started working in the schools, adding occupational therapy and a speech therapist. Everything has really expanded."
Today, UPMC Pediatric Rehabilitation offers occupational therapy, physical therapy (including scoliosis therapy), and speech therapy for patients ranging from newborns to age 21. For Denise, whose job has progressed from deploying mainly hands-on techniques to using state-of-the-art equipment in what she calls "one of the best gyms I've ever seen," the evolution has been exhilarating to watch unfold.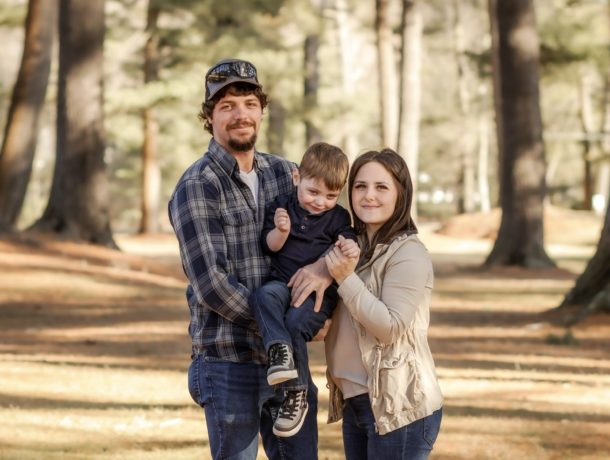 DOIN' IT FOR DEACON
If there's one thing Denise and the team at UPMC Pediatric Rehabilitation stress to families, it's that the smallest win is still a win.
"For many of these kids, even a minor achievement is a huge success for them," Denise says. "And that is just so rewarding. We celebrate with the families, and we all become family. You get to know these kids and their families so well."
One of those families is 4-year-old Deacon Myers, his mother, Jessica Roupp, father, Jaycob Myers, and grandmother Rhonda Myers.
In November 2020, young Deacon was diagnosed with Angelman syndrome, a genetic condition triggered by the absence of the maternal side of the 15th chromosome. Though the official diagnosis didn't come until he was about a year-and-a-half old, Deacon's case was textbook Angelman syndrome from early on.
"At his sixth-month check-up, I was really concerned," Jessica remembers. "He wasn't picking his head up yet and had delays with motor skills and communication. He started having subtle seizure-like activities, but we weren't sure [if they were seizures]. One of his therapists told us, 'Oh, that looks like seizure activity. You should get it checked out.'"
Seizures are a common symptom of Angelman syndrome, and Deacon's seizures were increasing in frequency and intensifying as his condition progressed. Though Jessica, Jaycob, and Rhonda regularly took Deacon to a children's hospital in Philadelphia, the family was told he would need additional therapies beyond what that hospital was already doing.
Given the distance to Philadelphia from their home in Blossburg, the family was researching their options when they came across the clinic in Williamsport.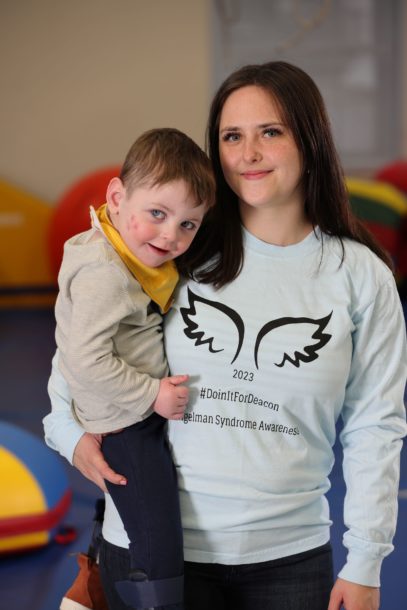 Jessica Zielecki, PT, DPT, is one of several therapists who have worked with Deacon since his first visit to UPMC Pediatric Rehabilitation in August 2021. In the time since, Deacon has received functional mobility training geared toward improving his sitting and standing balance, ability to move to standing, capabilities on his hands and knees, rolling to assist him with exploring, and interacting with his peers. In addition, the staff's occupational therapists have focused on Deacon's grasping and releasing and visual tracking skills to assist with play and feeding capabilities.
"He's so determined," mom Jessica says. "He wants to learn everything and be independent. He's motivated, energetic, and goes above and beyond what he's supposed to do. Everybody [at UPMC Pediatric Rehabilitation] is just wonderful. He's in good hands."
Even with that success, things have not always come easily. December 2021 brought an influx of new seizures, though a transition to a ketogenic diet seems to have helped curb those for the time being. Deacon is also non-verbal, which inherently brings its own challenges.
"The speech therapist is working on alternative communication with him," Zielecki says. "When he gets frustrated with us, he gets a little sassy. But when he's enjoying something, he's just laughing up a storm, and his smile is so infectious. As he improves, the sky is really the limit."
Deacon has inspired so many, his mom says, including his grandmother. Early on in this journey, Rhonda made the sacrifice to quit her job to be there for Deacon so the hair salon Jessica opened in 2018 could remain in business.
And then there's Jaycob, Deacon's doting dad and Jessica's high school sweetheart. Despite a physically and mentally taxing day job that involves climbing trees and clearing land (plus a side gig doing residential tree trimming), Jaycob is always there for the boy they call "Deac."
Together, Jessica and Jaycob started a blog called Doin' It For Deacon to chronicle their son's milestones and raise awareness about Angelman syndrome.
"When I'm having a hard day, [Deacon] shows that it's not a big deal and helps me to get over it," Jessica says. "He always sees the positive. He's the sunshine."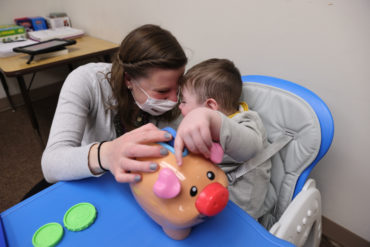 CHANGE FOR GOOD
When it comes to progress in pediatric rehabilitation, sometimes it really is all fun and games.
"The whole thing with kids is you try to make the therapy look and feel like fun and games," Denise says. "You need to make it a play activity that works the muscles or challenges the balance or whatever you're focusing on."
At UPMC Pediatric Rehabilitation, the process begins with an intake form that gives staff a rundown of the child's birth and developmental history. From there, an evaluation takes place, and a care plan is created and sent to the child's physician for approval. Once the physician signs off on the care plan, therapy can begin, with the child usually visiting UPMC Pediatric Rehabilitation one to two times per week. To ensure the plan remains effective, reviews and updates take place every 90 days to account for developmental advancements or wins.
Since joining the UPMC family in 2019, the program has steadily expanded, incorporating novel approaches into the mix. "My staff always had all these great ideas, but we never had the funds or ability to do them," Denise says. "It's amazing what we can do now."
Thanks to a local YMCA partnership, staff even has access to a pool to provide aqua therapy.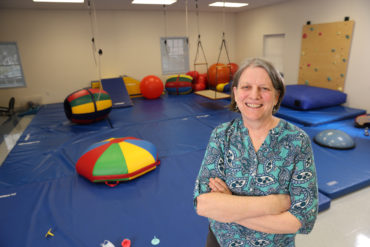 "Aqua therapy is really helpful for so many kids," Denise adds. "A lot of these kids have such a difficult time moving against gravity. In the pool, gravity is taken away. Some kids who can't stand, can in the pool, so they can still work on some of those muscles."
There are times that Denise, who remembers the days when the purchase of something as seemingly simple as a swing was cause for celebration, can't believe this is the same place she joined 45 years ago. Then again, in many ways, it's not.
The organization's name has been updated, the faces are different, and so are the capabilities of what the therapists can offer. But the one thing that hasn't changed since Denise's arrival in 1978 — or when the program originated in 1923, for that matter — is the mission.
"We are here for the kids and families," Denise says. "Everybody who works here is here for them."

---
Celebrate with us. Donate today to change a child's life.
Help us reach out goal of $100,000 for 100 Years. Your gift will provide hope, strength, dignity, and resources for children in our community to reach their full potential.