Twin entrepreneurs Maurice and Michael Bower have been building up Williamsport — literally — for years. Founders of TurnKey Construction, Inc. and TurnKey Electric, Inc., the brothers recently completed projects at Little League International, UPMC Williamsport, the Williamsport Regional Airport, and hotels in the downtown district.
In addition to improving the area's physical landscape, Maurice and Michael, and with their respective wives, Mary Jo Bower and Peggy Bower, and their mother, Amelia Bower, have been supporting the community in a less visible way.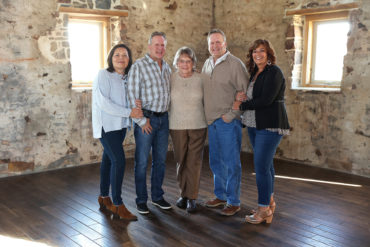 "Susquehanna Health Foundation is very giving," Michael says, "and I wanted to be part of something in the community to leave a small legacy for myself and our family."
Having grown up in Williamsport, the brothers share a strong sense of connectedness to UPMC in North Central Pa.
"All of us have experienced the great work of UPMC Williamsport's medical team since we were young," Maurice says. "When I first started in business, I completed a lot of jobs at the hospital. I just felt like it's time to give back."
Michael's work for UPMC in North Central Pa. has included completing electrical systems for the UPMC Williamsport Patient Tower renovation, the Health Innovation Center, and the UPMC Hillman Cancer Center in Williamsport.
Over the years, both brothers have given significant gifts to the Foundation. Maurice recalls the excellent care he has received at UPMC Williamsport including around the birth of one of his children, during a back surgery, and following a heart attack, when UPMC cardiologist Joseph Bering, MD, discovered the cause of the cardiac event.
"They did a catheterization and found a blood clot," says Maurice. "With my brother being my twin, Michael asked, 'What should I do?'"
Dr. Bering thought there was little chance of a similar blockage for Michael, but he and his team performed a cardiac catheterization to check. "Dr. Bering came in and said, 'You're not going to believe this,'" Maurice says. "He put our images up, side-by-side. My brother had a blockage in the exact same spot." Thankfully, Michael has not experienced a heart attack, and doctors continue to monitor the blockage.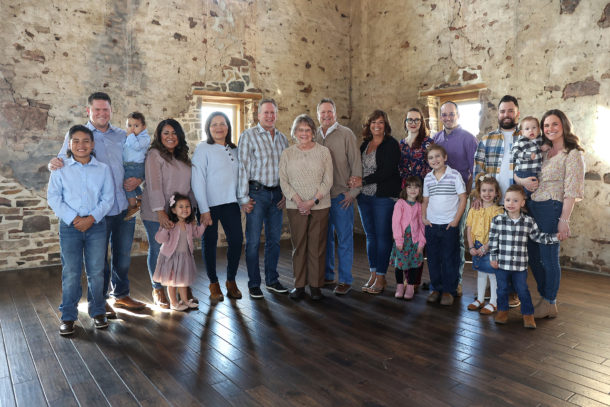 More recently, Michael's son, Michael, was treated for lymphoma at UPMC Hillman Cancer Center — and is currently cancer free. Michael and Peggy marked their gratitude with a donation to the Foundation in their son's name, which will appear on a plaque at the entrance to the Cancer Center.
The family has experienced top-level care in other areas of the health system including The Gatehouse at UPMC Williamsport, Divine Providence Campus, a short-term inpatient hospice unit devoted to the management of pain and other symptoms relating to a life-threatening illness. The unit's goal is to provide compassionate and dignified end-of-life care.
Maurice and Mary Jo say they are grateful for the kind and understanding staff at The Gatehouse who cared for Mary Jo's father, John F. Engel, prior to his passing in 2007. The couple, along with Mary Jo's seven siblings, contributed to the renovation of the facility's kitchen in John's memory.
"I don't even think you have to have your own family members receiving care at The Gatehouse to see how kind and compassionate they are to the patients and how good they are to the families," says Amelia, who has witnessed the important work of the hospice staff when visiting friends at the facility.
"My husband, Eugene, and I had a chance to learn more about The Gatehouse, so we wanted to honor my mother[1]in-law, Mae, who died of cancer in 1968. Even though she did not pass away at The Gatehouse, we wanted to contribute something [in her memory]. We got a large leaf for her and placed it on the Tree of Remembrance."
The tree-shaped memorial offers families an opportunity to honor loved ones. Donating to create this legacy not only helps offer closure for those who have lost loved ones but includes a financial gift to help future Gatehouse patients.
Through the years, the Bower family has honored more loved ones with additional leaves. Amelia's extended family dedicated a leaf to her beloved aunt Catherine Cioffi. When Eugene and Amelia's daughter, Cindy Bower Menne, died unexpectedly in 2013, the family dedicated a leaf in her name and asked that it be joined with Mae's.
"Before my husband passed away, we were able to go into The Gatehouse and see where that was on the wall," Amelia says. "He and I were always very passionate about The Gatehouse for everything that it stands for and what it means to families."
Eugene died in 2018, and although the family chose not to transfer him from the hospital to The Gatehouse, Amelia says the UPMC Williamsport staff treated Eugene and the family with the same dignity and respect patients and their families receive at The Gatehouse.
"Everybody was so compassionate and caring," she says. "He received top-of-the-line medical care. We felt at peace knowing that he was at peace when he had to take his last breath."
Later, Amelia and her sons honored Eugene and Cindy with a more substantial gift to The Gatehouse. A plaque outside one of the seven patient rooms bears their names.
"I've often thought how proud my husband would be if he could see this dedication to him and to our daughter," Amelia says.
Members of the Bower family say they're grateful to live in a city that values health care so highly, and they know their contributions to the Foundation help strengthen the community as a whole.
"There's really nothing else more important than health," Maurice says. "It feels like we've always gotten the special treatment, so making sure that the community has a facility where everyone gets the special treatment, that's what it's really all about."