Championing the Cause
John Rich is the type of guy who doesn't like to just sit around and do nothing. In fact, if you asked the Navy veteran and former merchant ship engineer to describe his lifestyle, the word physical would come to mind.
It wasn't unusual for John to be outside chopping wood on a nice day like January 20, 2014 — a day when the sun beamed brightly and there wasn't a cloud in the sky. His activity may have been normal, but what John says he felt when he returned to his house was anything but.
"I came home, unloaded my truck, and felt a little pressure on my chest," John says. "I thought, 'Something doesn't feel quite right. I'll lie down, and maybe I'll feel better.' That didn't work, so I got up and said to my wife, Anne, 'Could you drive me to the hospital? I think I might be having a heart attack.'"
Fortunately for John, Anne had other ideas and called 9-1-1. An EKG that emergency personnel performed shortly after they arrived confirmed that John's heart was indeed in distress. The man who had spent his life being active would leave for the hospital on a stretcher and with his skin a shade of gray that led Anne to believe he wouldn't be coming back.
When John arrived at UPMC Williamsport, cardiologist Donald T. Nardone, MD, informed him that he was experiencing a 98 percent blockage in one of his arteries. Dr. Nardone inserted a stent to improve blood flow and prescribed a regimen that included medication, a healthier diet, and more targeted exercise.
"It runs in the family," Anne says of John's heart attack. "His father had heart attacks and high cholesterol just like John."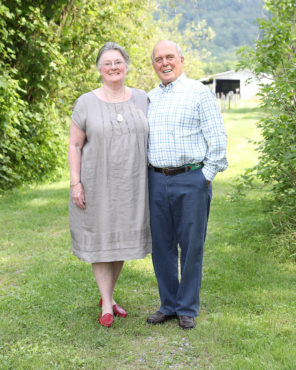 Following his doctors' orders, John began frequenting UPMC Williamsport's Cardiac Rehabilitation Gym, a fitness center designed exclusively for UPMC cardio and pulmonary rehabilitation. There, patients in the acute phase of their rehab wear a heart monitor during their prescribed workouts, while staff review their vital signs via computer in real time.
After using equipment such as a treadmill and a rowing machine three times a week for 16 weeks, John graduated to "maintenance" status, a designation for patients who have completed the monitored phase of their rehab and have elected to continue their wellness journey at the gym for a nominal fee.
"It's just beautiful," John says of the Cardiac Rehabilitation Gym. "What I love about it most of all is the fact that all the people there have come close to meeting their maker just like I almost did. There's no whining or sniveling or complaining. Everybody is upbeat and optimistic, and I just feed off of that."
The gym has more than 6,700 patient visits annually. The Cardiac Rehabilitation patients, along with John and others who are in maintenance status, rely on it to keep their hearts and lungs in working order. As early as 2023, the gym will relocate to an area directly inside UPMC Williamsport's East Entrance to make the facility easier for patients to access. It is part of a $4-million renovation project funded in part through contributions made to the Susquehanna Health Foundation.
John, who cites the care of Dr. Nardone and UPMC Williamsport's focus on cardiovascular health as reasons he's alive today, was thrilled to support the cause. Thanks to a significant gift from John and Anne, the new Cardiac Rehabilitation Gym will be outfitted with an additional treadmill and an elliptical training machine for use by patients just like John.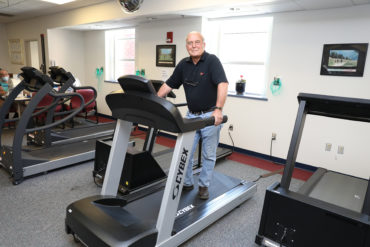 "This donation goes straight into the community and our hospital, which we are so grateful for," Anne says.
A Woolrich native whose mother, a nurse, and father, a patient, met at the former Williamsport Hospital, John has spent much of his life in the area and understands the impact of community-focused health care.
John says he feels stronger and healthier than he did before his heart attack, which is why he says he can't think of a better cause to support than this one.
"I consider myself to be very fortunate to be so close to the hospital and to get the kind of treatment I receive when I go down there," John says. "We're blessed to have this facility."