If you happen to find yourself rummaging through Bonnie Dodge's desk drawer, don't be startled if you come across a clown nose. It turns out the prop is a relic from Bonnie's time at the University of Pittsburgh, where the UPMC in North Central Pa. physical therapist discovered that patient care is about more than helping someone's physical health.
It's about making a connection—both with the patient and the community.
"I spent a lot of time volunteering at different health care facilities in Pittsburgh," Bonnie says. "There was a clown organization when I was at Pitt, and I became one of those clowns. We went around to different events and dressed up to make people laugh. I keep a big red foam nose in my desk drawer wherever I am as a reminder."
Though it took until her time at Pitt to don the clown nose, Bonnie's love for physical therapy began to take shape years earlier. As a high school athlete, she witnessed countless injuries—and suffered quite a few of her own—and marveled at how the teams' physical therapists and training staff could assist her teammates in returning to action quickly and safely.
Watching from afar was one thing, but the Mifflinburg native wanted a closer look and began volunteering at her local hospital when she was just 16 years old.
"I always really enjoyed volunteering. I just felt so much better when I could help people."
After obtaining an undergraduate degree in behavioral neuroscience from Pitt, Bonnie took the next step toward her goal of becoming a physical therapist by earning a master's degree in physical therapy at Beaver College (now Arcadia University) in Glenside, Pa.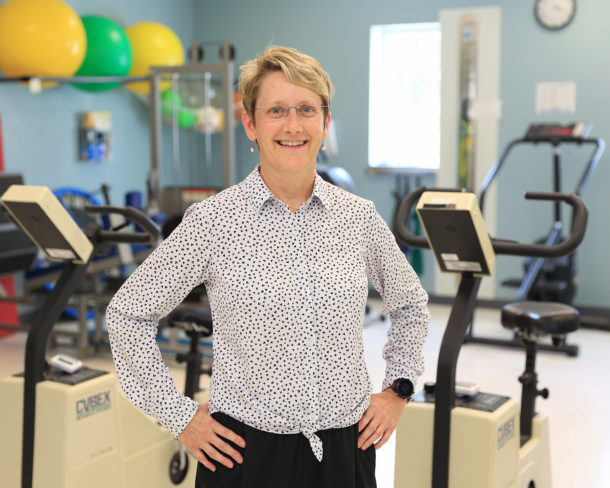 Shortly after graduation, Bonnie returned to the area where she grew up and accepted her first physical therapy job at The Williamsport Hospital. Now a veteran physical therapist who recently celebrated her 30th year in hospitals currently falling under the UPMC in North Central Pa. umbrella, Bonnie says she often thinks back about her experiences over the last three decades.
"A lot has changed over the years," she says. "There's been so much research to prove what works and what doesn't, and now we know what's most effective for patients."
Along the way, Bonnie carved out a niche in foot-related physical therapy. Becoming a foot specialist didn't necessarily come as a surprise for Bonnie. For one thing, she was an avid runner, and perhaps more importantly, she recognized early on that the area where she lived lacked stores equipped to fit people for the right shoe.
After years of making the trek to State College for properly fitted running shoes, Bonnie took things into her own hands and opened Elite Feet in Montoursville. For 17 years, she owned and operated the shoe store, providing a valuable resource to locals in desperate need of custom fittings. Though Bonnie recently sold Elite Feet, she still works part-time and is just as committed to helping people in the area select the right shoes for their unique gait.
"It really gave me the opportunity to get out into the community and give back because there are so many who just can't afford good footwear," Bonnie says. "I had a customer tell me one time, 'The two most important things to have in your life are a good mattress and a good pair of shoes. Because if you're not in one, you're in the other.'"
Eventually, Bonnie was able to merge her passions for giving back and athletics through a variety of shoe donations to nonprofits like the YWCA and UPMC Williamsport Emergency Department's Angie's Closet.
In addition, Bonnie has personally donated money to Susquehanna Health Foundation for nearly 20 years and supported several Foundation-hosted events through Elite Feet. In 2007, she was part of the Foundation's first formal employee giving campaign and followed that up by participating in the second employee-based campaign.

"When you're blessed with more than you need, I think it's our responsibility to give to others. Everybody will go through something and need help at some point. It's important to help. It's important to make things better for people."
Generous donors like Bonnie Dodge fuel the mission of the Susquehanna Health Foundation, and we're so grateful for all that she has done to help people in need. If you're interested in joining Bonnie in our shared goal of meeting the health care needs of our community, you can make a donation at: