Among other things, Robert "Bob" Ruffaner is what one might call a problem solver. The Williamsport native is also a Navy veteran, a graduate of Lycoming College and Bucknell University, a PPL Electric Utility retired executive of the former Susquehanna Division, and someone who donated many years of volunteer service to numerous charities and non-profit organizations.
Over the course of his life and career, Bob admits he has solved or helped others solve a lot of challenges — but it turns out it's the one he couldn't solve that may end up making the biggest impact of them all. Unfortunately, it's also the one that hurts the most.
But before the pain, there was passion. And before the loss, there was deep love and respect.
A romance blossoms, and a career blooms
Bob met his future wife, Lanea Gaffney, during their sophomore year at a Williamsport Area High School[1]sponsored Friday night dance, where a chance encounter resulted in the high school sweethearts' six-year whirlwind courtship and a serious relationship. After their 1957 high school graduation, Bob, who had enlisted in the Navy Reserve at 17, served two years active Navy duty, while Lanea attended Robert Packer Hospital School of Nursing in Sayre, Pa.
"She always wanted to be a nurse since she was 7 years old," Bob says of Lanea's dream. "She was such a caring person who wanted to help people. It was just her God-given nature."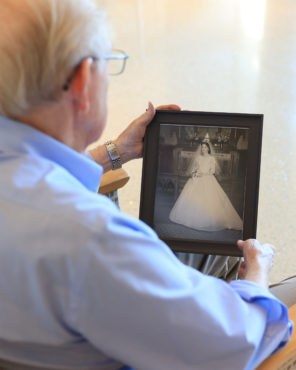 Lanea graduated in 1960 from nursing school, achieving what had been her ambition from childhood, while Bob was attending Lycoming College after active Navy service. The two married in 1962, and Lanea settled in at The Williamsport Hospital for what would be a 38-year nursing career at four different Pennsylvania hospitals. Her career included transitioning from bedside nursing to the operating room, intensive care, emergency room, the IV team, paramedic education, and occupational health for employees working in local industries.
Of note, she was Susquehanna Health's first-ever coordinator of Paramedic Education, selecting, developing and sending scores of top-notch paramedics from nine classes (1979- 1987) on to paramedic and emergency services positions in Williamsport and across the country.
However, it was those early years as a frontline nurse that shaped Lanea's view on improving emergency patient care and prompted her to wonder if her calling to serve might be better suited in other ways.
"During that period of the 1960s and '70s, she became frustrated with the medical condition ambulance patients were in when they arrived at the hospital and felt that improvements could be made in emergency services," Bob remembers. "It was in the late '70s that Dr. Earl R. Miller, medical director of the hospital, also became concerned and eventually got the approvals to announce they were going to establish what came to be known as one of the first certified paramedic education programs in the country. Lanea and I discussed her sincere interest and possible involvement. I encouraged her to apply because of her broad nursing[1]skills background and true commitment to quality patient care."
Between her stints in health systems and Bob's PPL relocations, Lanea and Bob had three children. Though she loved her job, decorating her home for the changing seasons, and tending to her flower garden, Lanea and Bob valued family above all else. Outside of work, keeping up with the children's activities led to new ways for Lanea to serve Williamsport — only this time, it was in the community through the Trinity Episcopal Church, Williamsport Junior League, Curtin Junior High Parent Teacher Organization, Salvation Army, Boy Scouts, American Cancer Society, American Heart Association, and more.
The Ruffaners were also active volunteers with the Williamsport Area High School Marching Millionaires for 10 years as their three children took their places as members of the top-quality band. The couple would raise funds and serve as chaperones on WAHS band competition trips, with Lanea pulling double duty as the band's unofficial nurse on five buses. The directors were so appreciative of these efforts.
The nurse retires, travels, and gradually becomes the patient
After retirement, Bob and Lanea enjoyed many wonderful trips across the country and abroad. But after a lifetime of giving so much to so many, a cruel twist of fate flipped the script in the most unfair of ways. The longtime caregiver now needed care of her own because of an insidious Alzheimer's diagnosis — and as you might expect, Bob was there through these years until the very end with her at home. Bob acknowledges, "It's a terrible, unsolved disease that requires more concentrated public attention, research, and meaningful efforts."
"After my wife's Alzheimer's got worse, I started deeply thinking about her life, her wonderful contributions to her family, community, the medical profession, and her love of that profession," he adds. "She always wanted to be part of lasting improvements in anything she tackled — and especially health care."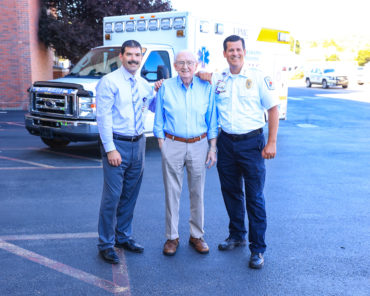 Forever making a loving difference
On June 16, 2022, the day that would have been his and Lanea's 60th wedding anniversary — and less than a year after he lost the love of his life — Bob met with Kristen Lorson of Susquehanna Health Foundation.
Though neither the doctors nor Bob could solve Lanea's problem by curing her Alzheimer's, what Bob could do was honor her memory in a wonderful way that will forever contribute to what Lanea called the highlight of her storied career. As a result of that meeting, the Robert and Lanea Ruffaner Endowment was established to support the needs and education of emergency medical services for future emergency patients.
"Emergency medical services education and the latest technology and equipment enables a skilled staff to provide the services that are paramount to saving lives before ambulances ever arrive at hospitals," Bob says in describing the focus of the endowment. "Now that UPMC Williamsport has been designated a Level II Trauma Center, highly skilled paramedics will be able to continue their vital role and team effort Lanea and I always agreed is needed everywhere."
Bob believes the endowment would have been a source of great pride for Lanea, the registered nurse (RN) whose career objective was to provide flawless patient care with compassion whenever and however possible.
"The family, which has now grown to include eight wonderful grandchildren located across the country, wants to be an important part in this region's emergency medical services effort for the future through the creation of this Susquehanna Health Foundation endowment," Bob says. "And we encourage others to join us whenever they can."