In a perfect world, there are no losses, death, or destruction. There is only good. However, here in the real world, bad things can happen to anyone.
Rebecca and Cody Umstead of Williamsport know that reality all too well. But they also know that bad doesn't have to stay bad forever. As Rebecca says, "You don't have to let it be just something bad. It can be something good."
High school sweethearts Rebecca and Cody were preparing to tie the knot in 2018 when they learned some surprising news. The pair was going to become a trio, as Baby Eila Elizabeth was on the way.
All was good with Rebecca's pregnancy — until it wasn't.
"Around Christmas, we were supposed to find out the baby's gender [at the 20-week ultrasound]," Rebecca explains.
"We found out she was a girl, but we also found out that she had some abnormalities."
Baby Eila, Rebecca was told, had a significant amount of fluid built up around her neck and in her lungs. Excess fluid was also pushing her heart to the wrong side of her body. The news left them stunned, saddened, and confused — emotions that only intensified after later hearing the baby had a genetic disorder called Turner syndrome, also known as monosomy X.
If you're familiar with genetics, you might remember that the X and Y chromosomes determine a baby's sex. Males have one X and one Y chromosome. Females have two X chromosomes.
But babies with Turner syndrome are missing part or all of one of their X chromosomes. The disease only affects girls (about 1 in 2,000 babies born female have Turner syndrome), it is not preventable, and there is no known cause. (NOTE: Source for stats: www.healthline.com/health/turner-syndrome)
Though doctors were confident in the diagnosis, the only way to confirm it was through amniocentesis testing, which the Umsteads declined because of the related risks. They sought a second opinion but received the same news.
The bad gets worse
The Umsteads were given their options, which included proceeding with the pregnancy despite the grim prognosis or terminating their unborn child. The devout couple opted for Rebecca to continue carrying the baby, relying on their faith to get them through.
"There really wasn't anything anybody could do," Rebecca says. "It was just a wait-and-see situation. We were told we had a less than 1% chance of her making it to term."
The plan was for Rebecca's doctor to observe her during weekly check-ups to ensure her own health wasn't at risk. But at the first of those appointments, the mom-to-be's blood pressure spiked, and the baby's heart rate became faint.
After being rushed to the labor and delivery department, Rebecca and Cody were informed that the baby's heart had stopped beating. Eila had passed away.
Saying hello. Saying good-bye.
After labor was induced, the Umsteads were given the opportunity to spend time with Eila thanks to an innovative device called a CuddleCot. The system uses a cooling pad to regulate the body's temperature and prevent deterioration, thus enabling the families of stillbirth babies to hold their loved ones and properly say good-bye.
Life after Eila seemed unimaginable because life with Eila never got to happen. The Umsteads leaned on their friends, family, and church community for support — but they also committed to making a difference in Eila's memory. The bad was so very bad, but maybe some good could come out of her short life?
"Both of us really wanted to make something of her life and have a way to remember her," Rebecca says. "My husband very much wanted to find a way to donate and give back to honor her."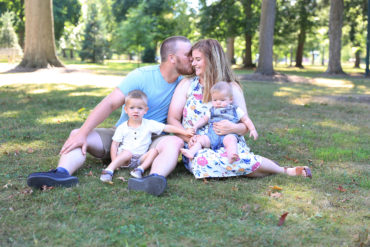 Returning to UPMC
An avid player of cornhole — the popular lawn game involving the tossing of fabric bean bags — Cody found inspiration in one of his favorite pastimes. He teamed up with his cousin, who was in the throes of her own grief after losing a child to sudden infant death syndrome (SIDS), to host a series of cornhole tournaments that would raise money for families in a similar situation.
Wanting to take their fundraising to the next level, the Umsteads created The Eila Elizabeth Umstead Foundation and contacted Susquehanna Health Foundation.
"We wanted to start with UPMC Williamsport because that's where we went for ob-gyn and who delivered Eila," Rebecca says. "Our delivery experience was amazing, given the circumstances. Our nurses were amazing."
Though the Umsteads originally wanted to purchase another CuddleCot for the hospital, they were introduced to the Butterfly Qi+ Pro by a member of The Birthplace at UPMC, the state-of-the-art maternity services center at UPMC Williamsport.
The device is a portable ultrasound with diverse capabilities that include checking fetal heart rate, position, fluid levels, and more during labor and delivery. It also provides efficient labor triage and fast responses to peripartum emergencies.
After partnering with the American Cornhole League on their biggest tournament yet, the Eila Elizabeth Umstead Foundation raised enough money to buy two Butterfly Qi+ Pros.
"We want to keep giving," Rebecca adds. "Our main focus is The Birthplace and in pediatrics because that's where our hearts are. We know the pain of losing a child, and that's where we want to help."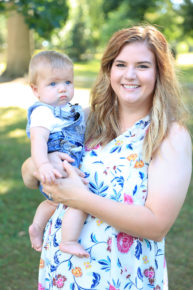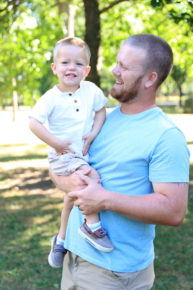 Gone but never forgotten
It's been about three years since Rebecca and Cody lost Eila. The pain never goes away, but the smiles on the faces of Rogan and Beau — the two healthy boys Rebecca gave birth to after Eila — certainly help. So does the good put out into the world by the foundation established in Eila's memory.
Rebecca says they hope to expand their giving in the coming years and are brainstorming what's next.
"All this really stems from us wanting to honor Eila," she says. "Cody is really the main force — he has such a passion for this, but that's just the kind of person he's always been. He's always looking out for everybody else and wanting to give and make sure everybody is taken care of."