Caring for Patients and Donating are Second Nature for this Physician Assistant
Working the overnight shift as an observation unit physician assistant (PA) is the perfect fit for Robert Ross, PA-C. He enjoys the quiet and appreciates the relaxed atmosphere. They allow him to focus on monitoring his patients to see if they need to be put into inpatient care. Hospital patients on observation status differ from those on inpatient status. With observation patients, it is still unclear if they need longer hospital care of if they can be discharged. Observation time is often less than 24 hours, but it is time filled with careful monitoring.
Rob finds joy in observation work. It requires attention to detail and nuance, as well as providing care and comfort, during this transitional time in a patient's hospital stay. When your work involves keeping careful watch over patients in this way, you gain a deep appreciation for what it takes to provide quality health care. For Rob, it is important to give back to his community hospital network in order to help sustain this valuable resource now and into the future.
"My wife and I are proud to support the patients and health care teams at UPMC Williamsport. We live here and work here. These are our people," says Rob.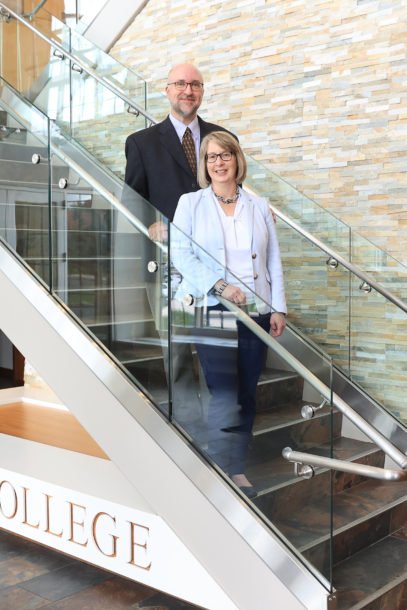 The road that led Rob to his role in UPMC Williamsport's Emergency Department Observation Unit was not a direct path. Rob and his wife, Susan Ross, moved to Williamsport in 1998 after she took a job as a professor at Lycoming College, where she currently serves as Dean of the College. Rob worked in IT as a software engineer, even briefly working for Susquehanna Health in that capacity. In 1999, Rob became a hospice volunteer. That is when he says his passion for patient care grew into a decision to change careers.
"Volunteering in hospice care is where I found my calling. The patient interaction and connection were so rewarding to me. It was a life-altering experience," says Rob. "I just knew that my life's work was to care for patients."
Rob went back to school to become a PA, first doing his prerequisites at Lycoming College, then finishing his studies in the Physician Assistant Program at Commonwealth University - Lock Haven in 2012. His first PA job was working in a nursing home, and in 2018 Rob joined the UPMC in North Central Pa. team full time. He is now a critical part of the Emergency Department Observation Unit team.
"Joining UPMC was the best career decision I could have made," says Rob. "There is such a positive vibe here. And
working in my community, with the people who live in my community, makes a huge difference."
Rob is the current president of the Pennsylvania Society of Physician Assistants. He recently partnered with Erin Holmes, PA-C, of Acute Care Surgery in Williamsport and other area PAs to help form the Advanced Practice Professionals (APP) Council at UPMC in North Central Pa. The APP Council is growing and gaining traction, which is rewarding for Rob and his colleagues.
When asked why he decided to donate to Susquehanna Health Foundation, Rob seemed surprised and simply replied, "Why wouldn't I?"
"Becoming a physician assistant has been so rewarding and life-affirming. So much so that I am moved to donate where I know so much good is being done," says Rob. It's the positive, caring environment that he values, and that makes him want to give back. "I know the great work being done here, firsthand. Of course I want to support that."
Giving back is at the core of who Rob and Susan Ross are, and they both love helping people. They see the value in their donations and see how the Foundation's support really has had a positive impact on patients. They also donate to other organizations that are close to their hearts, including Lycoming College, Central Pennsylvania Food Bank, and the Lycoming County SPCA, where Rob walks dogs every week.
"Donating to local causes and institutions is something I plan to always do. Places like this are so special. I want to help keep it that way, and supporting UPMC in North Central Pa. is a big part of that. We all owe it to each other to do what we can when we can."