When you're in the middle of a pandemic that has ravaged the globe, it's hard to remain committed to an "everything happens for a reason" philosophy.
For instance, if everything happens for a reason, how could Jason Dominick — a 41-year-old, healthy, active, athletic man — find himself in a hospital bed, gasping for air and battling COVID-19? And why did Jason end up receiving treatment at UPMC Wellsboro — a community hospital — when his life was on the line?
Jason maintains that the answer to both of those questions is "it was just meant to be."
Preparing for the Worst
Months before Jason arrived at UPMC Wellsboro, Susan Duchman, chief nursing officer for UPMC in North Central Pa., found herself in a series of meetings to plan for the arrival of COVID-19. As teams of leaders worked quickly to develop strategies that would prepare UPMC facilities in the region for what could become a significant health crisis, Susan and her colleagues feared the worst.
"We were planning for what we anticipated — and praying and hoping we weren't actually going to see it," she says. "From a planning perspective, it was about capacity. We pulled out our disaster plans and considered if they would apply to COVID. The answer was yes — and no."
All UPMC staff in the North Central Pa. Region receive extensive disaster response training on an annual basis. But the difference between COVID-19 and incidents such as multiple-vehicle crashes or widespread fires is that those events usually are short-lived and don't require a sustained response.
COVID-19 was not — and would.
UPMC leaders in North Central Pa. knew they needed to revamp their staffing and patient care models to ensure they would have the coverage they would need throughout the health system to accommodate the surges in patient volumes, the very sick patients, and the many other challenges COVID-19 could bring.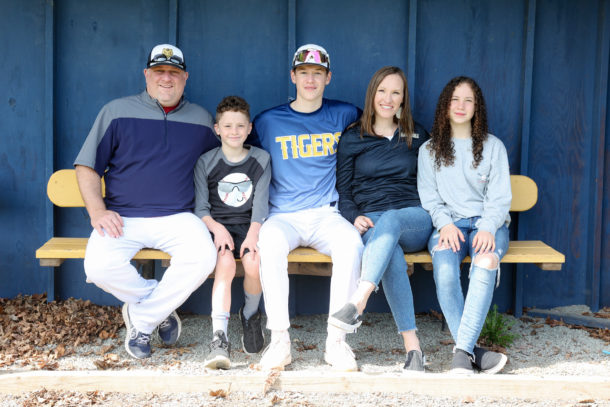 A Thanksgiving to Remember
Both teachers, Jason and his wife, Marnie, are no strangers to the types of germs that tend to permeate school classrooms. But the virus that Marnie brought home around Thanksgiving was no run-of-the-mill cold. It was COVID-19.
"My entire family [Marnie; son Karson (15); daughter Claire (12); and son Brooks (8)] got COVID-19," Jason says. "I was at home working remotely, but my wife was still at school, and we think I caught it by her bringing it home. The first week, I felt the typical flu-like symptoms, but I still cooked Thanksgiving dinner."
What Jason soon began to experience, however, was much worse than a seasonal flu.
The basketball coach and longtime special education teacher at North Penn-Mansfield High School says he struggled so much to breathe that his family decided he needed emergency care. While in the emergency department at UPMC Wellsboro, he received a thorough examination and fluids to treat his dehydration before staff sent him home to recover.
That night, Jason's symptoms worsened. COVID-19-related pneumonia set in. The next morning, he returned to the hospital, where he would spend the following week — and where doctors would tell Marnie they weren't sure if her husband would live.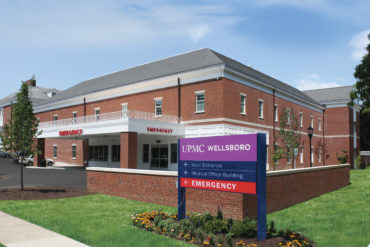 Creative Staffing to Meet Patient Needs
While Jason was spending his Thanksgiving break battling the virus, he was far from the only one. In fact, Matt Romania, director of nursing at UPMC Wellsboro, says that was the time frame when COVID-19-related cases began to appear in north central Pa.
"It was around March 2020 when we started to hear about New York City and the horror that was happening there, but we had not seen anything like that locally," he says. "For us, the biggest influx of COVID-19 patients began a couple of weeks before Thanksgiving and continued all the way through the first of the year. There were points where more than 90% of our patients had COVID-19."
Providers are not immune to the virus, and soon Matt and his team were dealing with community spread where providers were also getting sick. That meant a constant shuffling of work schedules, extra hours, long nights, and leadership taking on frontline roles to help fill gaps created by sick health care workers.
"We're a small hospital," Matt says. "We had to look to see how we could make the experience the best for the patients while still being safe. I had people from the front offices on the nursing floors answering call bells and just being there for patients."
In addition to creative staffing within each hospital, all of UPMC's facilities in the North Central Pa. Region also benefited from careful coordination among the health system's other facilities and resources within the region.
"Twice each day, leaders and representatives from each of our UPMC facilities and departments in the North Central Pa. Region had a call to plan for the next 12 hours," Susan says. "The synergy created during those calls was a key factor in our success. Our hospitals shifted staffing and supplies at a moment's notice across facilities to ensure both patient and employee needs were met."
State-of-the-Art, Compassionate Care
Some people might underestimate the capability of a hospital in a rural area to handle a health crisis that struck with the pace and magnitude that COVID-19 did. But, based on the care he received from the team at UPMC Wellsboro, Jason is not among them.
"The treatment I received was outstanding," he says. "A former basketball player of mine works in a big-city hospital in Atlanta, and everything she recommended for us to try, my hospital was already doing. The care and treatment that I received — I don't think I could get that type of care anywhere else. I felt like the entire hospital was there to help me get through this."
Christopher Domarew, MD; Jill Burns, MD; and Walter Laibinis, DO, were the physicians who treated Jason during his stay, using monoclonal antibodies to stave off the effects of the virus on his body. "I owe a lot to my doctors and the nursing staff," Jason says. "Beyond the medicine, the team's compassion was what made my experience so special. The president of the facility, Janie Hilfiger, even checked in on me one day, and that was really touching. That just doesn't happen everywhere."
"I owe a lot to my doctors and the nursing staff. Beyond the medicine, the team's compassion was what made my experience so special."
Coping with the Emotional Side of COVID-19

By now, the physical symptoms of COVID-19 — including shortness of breath, fever, sore throat, dry cough, body aches, and many others — are common knowledge for most people.
What are not as well known are the mental and emotional effects the virus can cause for patients and the staff who care for them.
Initially during Jason's hospital stay, the self-proclaimed family man couldn't receive visits from his wife or children. Exercising an abundance of caution and safety, leaders at UPMC in North Central Pa. at first established a policy that did not allow patients to have support visitors. Then, after careful consideration, hospital leaders amended the policy to offer more flexibility while continuing to maintain stringent safety protocols.
"That was the hardest part, because you couldn't be around anyone," he says. "Starting about the third or fourth day, the staff would allow my wife to come in for 10 minutes. It was tough to be away from my family, but the nurses and doctors went above and beyond to try to make me feel comfortable."
Susan Duchman acknowledged the high level of stress among staff who have stared down the COVID-19 virus for more than a year.
"The emotional toll of having to take care of so many COVID patients struggling to breathe and them not having visitors has been very hard for our staff," she says. "I hear all the time on TV, 'My loved one died alone.' No one in our region died alone. Our nurses were dedicated to being there, holding hands and supporting the patients."
To help address feelings of stress and despair among staff, UPMC's behavioral health and crisis intervention teams offer care and support to those who need it. Staff can take part in faith-based services provided by a chaplain. There are also "recharge rooms" for those in need of a few minutes of solace, quiet music, or prayer
Redefining What it Means to be an Essential Worker
Matt Romania says he always knew his team would get through the COVID-19 pandemic. "Even before COVID, I felt that the people who worked here were absolutely amazing," Matt says. "When the chips are down, we all work together. I've never felt hopeless. I've always just felt that I want people to stop suffering, and I want our community to come out of this."
Both Matt and Susan are thankful for the way the team at UPMC and those from the community have rallied together for the greater good.
"We're all essential workers, and we all play a role," Susan says. "We saw lots of people do their part to positively impact this pandemic — and we needed everybody. We needed truck drivers to get our supplies. We needed businesses to bring in coffee. We had all these pictures and notes come in from the community, and they were hanging all over the walls as a thank-you. Our team truly stepped up like never before."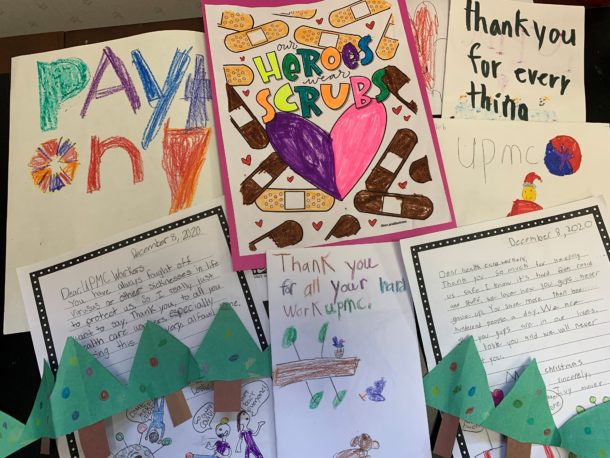 A Changed Perspective
On the other side of the patient/provider relationship, Jason realizes he might not be alive today if it weren't for the outstanding treatment and care he received from the UPMC Wellsboro staff and the support of his family and friends.
"An experience like this makes you really appreciate life," Jason says. "It changes your perspective on everything and makes you appreciate other people. We take so much for granted — that's a cliché, but it's the truth. It just makes me appreciate my family and everybody so much more."