Being the Light that Shines on the Darkest Day
As someone with a strong faith in a higher power, Jessica Liuzza has always accepted that things happen for a reason. To know her is to appreciate how Jessica believes there's always at least a sliver of light — a method to the madness, if you will — on what is even the darkest of days.
And for the UPMC Williamsport Emergency Department registered nurse, it's hard to imagine a day darker than November 10, 2021. Although, oddly enough, the circumstances of that day couldn't have been more pleasant, according to Jessica.
"My 10-year-old son, Jacob, and I were coming home — it was mid-afternoon on a nice sunny day where there was nothing wrong with anything," she recalls. "We were talking about what he was going to eat for lunch when we were involved in a devastating automobile accident. Then it got hazy and smoky."
Through the fog, she began to recognize the faces of friends and colleagues. There were paramedics Jason Kling and Tim Weaver and Dr. Adrian Brandau, an emergency services physician at UPMC Williamsport, who just so happens to volunteer with the Hughesville Fire Department.
As a trained nurse, Jessica could quickly assess the severity of her injuries, which included a fractured femur and dislocated ankle.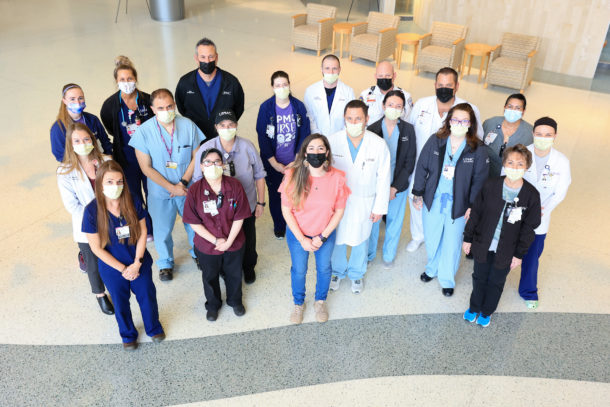 "Seeing everybody there was what helped me hang on," she says. "Knowing that I was in good hands, I went into nurse mode. I tried to assess Jacob by talking to him and seeing what was going on."
Ultimately, mother and son went in separate directions, with Jessica transported by ambulance to UPMC Williamsport and Jacob flown by helicopter to another nearby hospital. Though she was initially coherent and thought the extent of her injuries was what she could see, Jessica began feeling chest pains while en route.
Shortly after she arrived, Jessica suffered a temporary loss of consciousness.
"As we pulled into the ER, people told me I kept saying, 'Who's here? Who's here?'" Jessica says. "Everyone was there at the head of my stretcher, allowing me to grip their hands so tightly as they switched positions to perform their duties and care for me. I asked them if I was going to die, and they said they wouldn't let me — and that's the last thing I remember. I woke up in the ICU, and the first thing I noticed was a colostomy bag. Dr. [Ronen] Elefant and Dr. [Karima] Fitzgerald had saved my life. Everyone there saved my life."
In addition to her leg and ankle injuries, the impact of the accident fractured Jessica's neck and caused severe internal damage that required surgery on her transverse colon, spleen, and pancreas. To make matters worse, she became septic in the days following surgery as her body struggled to overcome an infection. In total, she would spend more than four weeks at UPMC Williamsport recovering and learning how to manage her new way of living.
The weeks were hard, and there were plenty of dark days, but Jessica was alive — and so was Jacob, who miraculously only suffered bumps, bruises, and re-injured an already torn knee ligament.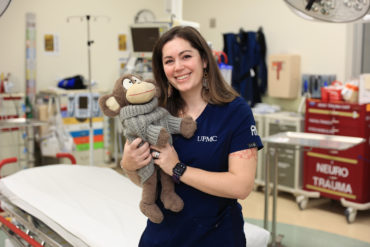 Among the many UPMC teammates who helped care for Jessica and provide moral support along the way was the trauma program manager. She visited daily and even introduced Jessica to Aly's Monkey Movement — a morale-boosting initiative centered on providing stuffed monkeys to hospitalized children and adults — which Jessica says she now proudly participates in as a volunteer.
Looking back, Jessica firmly believes she wouldn't have gotten the same level of care had she been transported to another hospital and not UPMC Williamsport. Even while in the throes of trauma, she could recognize the number of people who were at her side, holding her hand, helping to calm her down, and even picking up extra shifts to be there for her.
"There were days I just wanted to die," Jessica says about her recovery. "But the care I received [at UPMC Williamsport] is what got me through. The staff made everything easier. Every single staffer who came to see me stopped to sit with me and hold my hand."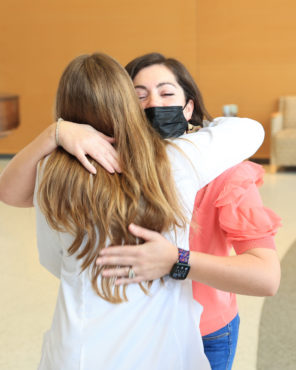 In fact, Jessica was so moved by the entire experience that it altered her career plans. Just prior to the accident, the nurse had accepted a new role at a neighboring hospital but elected to stay at UPMC Williamsport after being on the receiving end of her teammates' compassionate care.
To some in the health care industry, the people they work with are just colleagues — mere acquaintances who happen to be employed at the same place, roam the same halls, and treat the same patients.
But not for Jessica and the people she works with.
It's now been more than a year since the accident, and Jessica remains focused on recovery and therapy — though she can't help but often think about how she feels like something was protecting her and Jacob that day. And how the first people on the scene and those who saved her life were the people she was lucky enough to call friends and teammates.
"I don't think my outcome would have been the same if it hadn't been for that emergency department," Jessica says. "I received exceptional care that day. They were my light at the end of the tunnel."