Better Equipped to Serve Dialysis Patients: Enhanced hemodialysis facilities and equipment made possible through a specialty endowment result in better care and comfort for patients.
A newly relocated hemodialysis unit at UPMC Williamsport features state-of-the-art equipment thanks to funding from the William and Elizabeth Frederick Endowment Fund, which was established specifically to meet future dialysis needs at UPMC in North Central Pa.
The 15 new pieces of equipment, which cost nearly $140,000, allow staff to increase the level of care offered to acutely ill patients undergoing hemodialysis.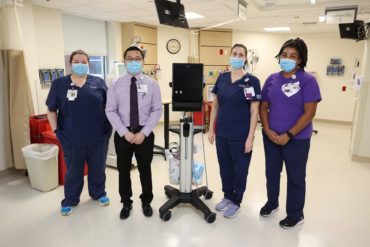 "Our patients might have an acute kidney injury where they would require intermittent hemodialysis for a short period of time until they've recovered," says Josh Pauling, BSN, unit director for Medical Surgical/Pediatric Unit, IV-Team and Inpatient Acute Hemodialysis at UPMC Williamsport. "We also see some chronic patients who have end-stage renal disease who usually receive dialysis at outpatient clinics but who have been hospitalized, so we continue their treatments." In addition, the unit supports patients treated elsewhere in the hospital, including those requiring continuous renal replacement therapy in the Intensive Care Unit.
With six treatment bays, the UPMC Williamsport hemodialysis unit provides an average of 170 treatments a month, or slightly more than 2,000 treatments a year, Josh says.
The new equipment comprises eight Crit-Line IV monitors, six Draeger Delta XL units, and Fujifilm Sonosite ultrasound equipment.
"The Crit-Line IV monitors are fluid-management tools that track patients' blood volume and oxygen saturation levels. By providing these vital data to dialysis technicians in real time, the monitors allow staff to treat fluctuations in these levels proactively," Josh says.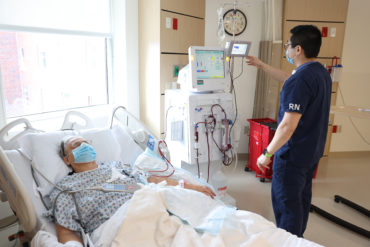 "Prior to the Crit-Line IV, we had to monitor patients for signs that we were pulling too much fluid off, sometimes too rapidly," he says. "That can cause nausea, cramping, and vomiting. With this new equipment, we can monitor for hypovolemia prior to the patient presenting symptoms, so it provides a real benefit to the patient."
Similarly, the Draeger Delta XL bedside monitoring units track and report other vital information.
"These are the same machines used in the Intensive Care Unit," Josh says. "They monitor patients' heart rhythms, blood pressure, heart rate, and blood oxygen saturation. This helps supplement patient care just like the Crit-Line IV."
The new ultrasound equipment enables qualified staff to place dialysis access urgently for acutely ill patients who require emergency treatment and also helps in caring for patients with fistulas and grafts, both of which are ways dialysis technicians can access the blood vessels needed to treat the patient.
"We have a provider who is trained to put in emergency dialysis access, and the ultrasound is housed in our treatment area so she can perform that bedside procedure and we can start treatment without any delays," Josh says.
The William and Elizabeth Frederick Endowment Fund, which was established as part of an estate, showcases the impact that specific-use funds within the Susquehanna Health Foundation can have on health care in the region.