Generous donors have donated to implement CAREpoint – a comprehensive, integrated workstation that allows medical teams to improve communication, workflow, and, most important, patient care.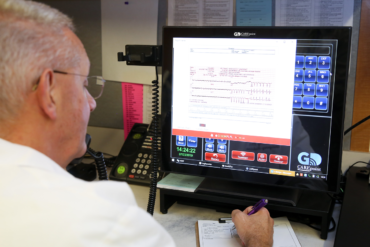 "It allows emergency department staff to consolidate everything – radios, phones, and computers," said Jim Slotterback, regional manager of emergency preparedness said. "What was once jumbled on a long desk is now a single workstation. That saves a lot of room, improves efficiency, and eliminates the need to go back and forth among all the devices."
The portal plays a significant role in improving a hospital's capacity to care for its patients by establishing a readily accessible central database for all documentation. Doctors, nurses, and other care providers no longer have to wait for access to patient data.

It's also that synergy — and the opportunity it offers for collaboration — that plays a pivotal part in delivering the highest quality of care to patients, even before they arrive at the hospital.
With CAREpoint, emergency department team members receive instant alerts when a patient is enroute to the hospital so they can adequately prepare for the patient's arrival. Because the system supports rich media files, paramedics are able to capture valuable photos and videos of an accident scene and deliver those electronically to the team of waiting emergency personnel. Jim speaks highly of that feature, which is a major improvement over what has been a mostly unchanged process for decades.