Training the "Hidden Profession": Unique program at UPMC Williamsport helps to fill the shortage of medical laboratory scientists thanks to endowments that offset costs for students.
If a doctor is the quarterback of a patient care team, the hospital's laboratory is akin to the offensive line — the unsung hero that keeps things moving in the right direction.
Neither the line nor the lab is usually one to get splashy headlines, but both are essential parts of their team. Where the line and lab differ, however, is in the number of players. While college football powerhouses are steadily pumping out blue-chip linemen ready for the professional ranks, the lab landscape isn't quite as fruitful.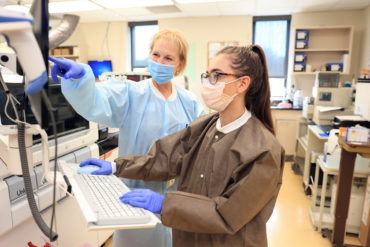 "We have a nationwide shortage of medical laboratory professionals," says Amanda Mills, a medical laboratory scientist (MLS) and the program director for the Medical Laboratory Science Program at UPMC Williamsport. "A big reason is we are in a mass retirement phase. A lot of those who started in the profession are now at the retirement age."
The program Amanda helms is one of just 13 like it in the state. Officially, the program at UPMC Williamsport provides hands-on training and instruction in the operation of state-of-the-art laboratory instruments and in the performance of relevant manual procedures. The 12-month educational program is designed to be completed as the fourth or fifth year in a baccalaureate degree program, preparing future MLS candidates to sit for the examination in clinical laboratory science.
Unofficially, it sheds some much-needed light on what Amanda calls a "hidden profession."
"Not a lot of people know we exist," she says. "Everybody has had lab work done, but they don't know what happens after their specimens are collected."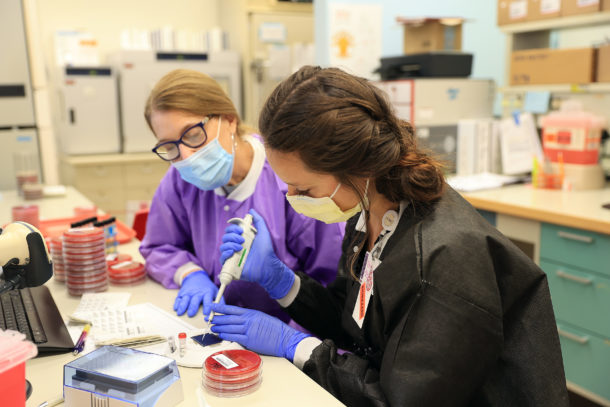 Lab services at UPMC in North Central Pa. generally comprise two parts. There's the clinical component or the drawing of a patient's blood or collection of another specimen. Then there's the instrumentation and methodologies that help inform providers about disease diagnosis. Studies show that some 70% of medical decisions are based on laboratory results. Together, those two specialties work in conjunction to ensure quality specimens are obtained and accurate analysis is conducted.
To provide some context into the type of volume UPMC in North Central Pa. labs are experiencing, UPMC Williamsport alone recently completed about two million billable tests in one calendar year. Like other departments within the hospital, the emergence of COVID-19 meant heightened numbers for the lab — and a need for its staff to remain agile and resilient.
"COVID-19 showed just how critical the lab is," says LeAnn Hess, MLS, and regional director of Laboratory Services for UPMC in North Central Pa. "[Our team] knew change was coming at them hard, and they showed up every day, rolled with the punches, and did what they needed to do to just keep moving forward."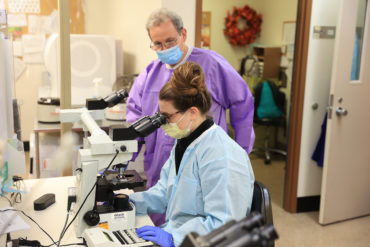 That commitment to the cause didn't surprise Amanda, who interacts with members of the Medical Laboratory Science Program at UPMC Williamsport daily — and is an alum of the program herself. Amanda says the ideal candidate for the MLS program is someone who wants to help others without taking on a patient-facing role and enjoys working on their own but also as part of a team when the need arises.
"We are very much troubleshooters," she says.
One of the state's most established MLS programs, UPMC Williamsport's program accepts four students each year, with two beginning in January and two in July. Admission into the program requires a bachelor's degree in a biological science (or a commitment to obtaining one) and exemplary college coursework. Students who attend one of 11 colleges and universities affiliated with the program can complete the program on the UPMC Williamsport campus during their senior year of study.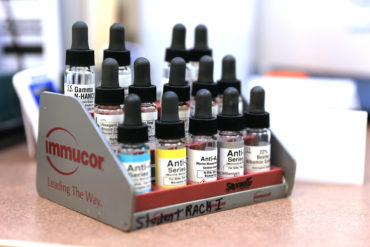 The program's structure includes about 90 minutes of classroom instruction each day, followed by a clinical rotation in blood bank, microbiology, chemistry, and hematology focuses.
"From the moment the students start, they are working with actual patient clinical samples," Amanda says. "[Students] are working with a clinical instructor who is producing actual patient results. It's very immersive."
Because of the program's prestige and the immediate need for new scientists in the field, new graduates essentially have their pick of jobs across the country, LeAnn adds.
A Laboratory and Pathology Endowment was recently created to help students offset the cost of completing the program. Additionally, two retired physicians — Dr. Donald J. Leathers and Dr. Sheldon M. Schwartz — also recently created endowments in their names to generate scholarships for students.
For people like Amanda and LeAnn, professionals who are passionate about what they do and thrive on the unknown, lab work satisfies both their emotional and intellectual needs.
"The beauty of medicine and science is that so much is always evolving. We constantly have the opportunity to ask, 'What do we do? What don't we do? And what does our population really need?'" LeAnn says.